Space-saving solutions for high-density infrastructures
In a survey* of IT professionals, 85% said they are increasing density to:
50%: Reduce cabinet/rack space.
47%: Lower costs.
38%: Save on cable management.
Download
The SpaceGAIN brochure
(PDF file, 1,45 MB)
* Source: "Innovating in a Time of Change: Investment and Technical Trends in the Data Center," CommScope, Sept. 2009
SpaceGAIN 90° Angled CAT5e/CAT6 Cables
The angle makes space work for you.
Gain up to 10cm of cabling space.
Reduce cabling congestion in crowded cabinets.
Eliminate cable managers.
Make easier wallplate connections.
Make neater desktop connections.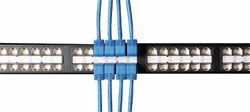 Webshop: patch cables
Route cables directly into ports
SpaceGAIN 45° Angled-Port Patch Panels
Reduce cable congestion in crowded cabinets.
45° downward angled ports eliminate cable looping.
Ideal for retrofitting cabinets.
Protect bend radius.
Eliminate cable managers.
CAT5e and CAT6 24- and 48-port models.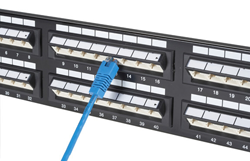 Webshop: patch panels