BRANCH SOLUTIONS
Manage your IT branches - without being on-site!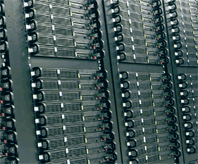 Central administration of IT branches and decentralized computing centers, as well as controlling a myriad of device types, are the big challenges administrators are facing today.
To request further information contact a Black Box Tech Support today.
Black Box Branch Switches - a product family of cost-effective KVM over IP devices specially developed for the management of servers and serial network devices in IT branches - help you cope with these challenges.
They allow for fast and comfortable troubleshooting, reboots or cold starts. The patented KVM over IP technology offers a single central administrative interface to monitor and control your IT via standard IP connections - independent of location and device type.
Advantages:

Secure central administration makes costly on-site servicing unnecessary and guarantees high availability of your system.
Remote access with a single user interface with integrated KVM switching, external modem support and power management.
Central user interface for cold start of servers and serial devices.
Available with one, four or eight configurable ports to allow for maximum flexibility when connecting servers and serial devices.
External modem support enables access to remote servers and serial devices even if the primary network is not available.
Black Box Start-to-Finish-Services
Conception - Concept development for the optimal design of the IT branch administration.

Planning - a single contact point Germany-, Europe-, worldwide.

Design - Generation of a suitable design solution.

Installation - by certified technical staff.

Maintenance - we take over the entire maintenance of your application if required.